Spring is now in full swing & I can't think of anything better than a nice cocktail to enjoy while being poolside, at an outdoor event, bridal shower, or wedding! Looking for a signature cocktail to have at your next event? The ones below are sure to be a hit! Before you get out all your ingredients to be a mixologist, here are a few tips to keep in mind.
Mix drinks in large batches– for example, one gallon at a time is a great idea. This will help to keep the preperation consistent when making drinks for a large group. Typically when making a large batch of cocktails you will serve them through a spout or ladle. The key to making the batch successful is to start with the freshest ingredients. You also want to make sure to add the ice to the glass and not the entire batch. (Nobody wants a watered down drink)
The next tip in successful cocktail making is creating a perfect cocktail base. The base can be made in advance and will cut down on time the actual day of the event. Typically you want to make the base no more than 24 hours before serving. A favorite cocktail base that everyone will love consists of macerating fresh fruits with simple syrup and a touch of spices or herbs. Depending on what drink you are making the fruits, herbs, & spices will vary.
Final tip –  Store the cocktail bases in fun clear jars to add some decor & color to your event.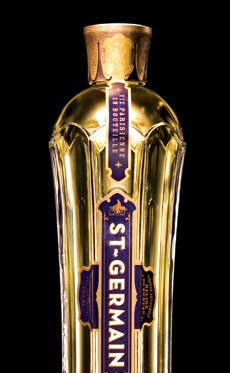 Tennessee Spa Day:
7 cups Tennessee whiskey
2 1/2 cups of St. Germain Elderflower liqueur
6 cups of Perfect Puree of Napa Valley Yuzu Luxe Sour
Barkeep Lavender Spice Bitters to put a dash in each glass
Lavender sprig garnish
Combine all liquid ingredients in a gallon container and shake until well blended. To serve fill a glass with ice and add a dash or so of the bitters. Add cocktail mixture and garnish with a lavender sprig.
Cucumber Caipiranha:
3 slices of cucumber, each 1/2 inch thick
1/2 of a lime, cut into two wedges
1 teaspoon raw (turbanado) sugar
1.5 ounces of white rum
club soda
cucumber slices and lime rounds, for garnish
In a short glass, thoroughly muddle lime wedges, cucumber slices and sugar. Fill glass with ice and pour in rum. Top with club soda. Mix with drink shaker or another class and garsnish with cucumber and lime.
**Makes one drink**
Enjoy & please let me what your favorite spring cocktails are!!
Daring,
Ali The Mayor